Its true...when the weather gets nice, I'm thinking one thing: Its Craft Show season!
I'm trying to plan a trip to New York for my 1 year wedding anniversary and lucky enough for me, The Renegade Craft Fair happens to be going on in Brooklyn on the same weekend. And the fabulous Lotta Jansdotter will be there doing a workshop!
The Renegade Craft Fair features over 300 indie craft vendors, free workshops, entertainment, and food. They travel to several other cities as well so be sure to check out renegadecraft.com for more details. It is free to attend and is an outdoor event so fingers crossed for nice weather!
I'm extremely excited because the last big indie craft show I went to in New York was the Bust Holiday Craftacular a few years back. I got to meet the lovely and talented Jenny Hart of Sublime Stitching. She was so sweet!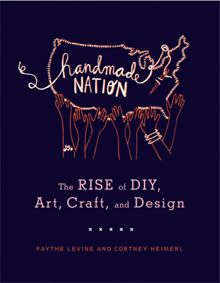 If you don't know much about the indie crafter scene, I highly recommend the book, Handmade Nation. It features profiles of popular crafters around the country and gives you a look at the creations which have made them so successful. It also has a companion DVD documentary, which I have yet to see but both can be purchased through Amazon.com.
And if you already love the indie crafter scene you can check out indiecraftshows.com for an up to date calendar on upcoming shows in you area. There are quite a few coming up in the Baltimore area so I know what I'll be doing for the new few months!